Pay invoices
BPOINT 'One Off' payment processing for School Fees (replaces BIZGATE) and Direct Debit 'ongoing' payment options.
___________________________________________________________________________
'One Off' Payments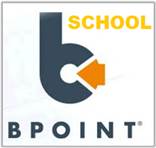 How to process a payment:
1.

Click on the "Online Payment Option"

2.

Enter your Family ID (from the School Invoice or Statement)

3.

Enter your Family Name

4.

Enter the Description or Invoice No for the payment

5.

Enter the Amount of the payment

6.

Click on either the icon matching your card type (MasterCard or Visa)

7.

Enter your Credit Card Number

8.

Enter the Credit Card Expiry Date

9.

Enter the Card Verification Number/CVN (i.e. the 3 digit code on the reverse of your Credit Card)

10.

Click on the Proceed button

11.

After 3 to 5 seconds your payment will be processed and the receipt information will be displayed

12.

Either click the Print View or enter your email address and click Send Email to get a copy of your receipt

13.

You can now exit the Payment Page
___________________________________________________________________________
Direct Debit 'Ongoing' SCHOOL payments:


Parents/caregivers are able to authorise our school to process ongoing payments to pay for school fees and invoices as agreed under a 'payment plan'.

These payments may be scheduled weekly, fortnightly, monthly or per term depending on the payment type.

Please contact our Finance Officer on 81820217 for these payments.
___________________________________________________________________________